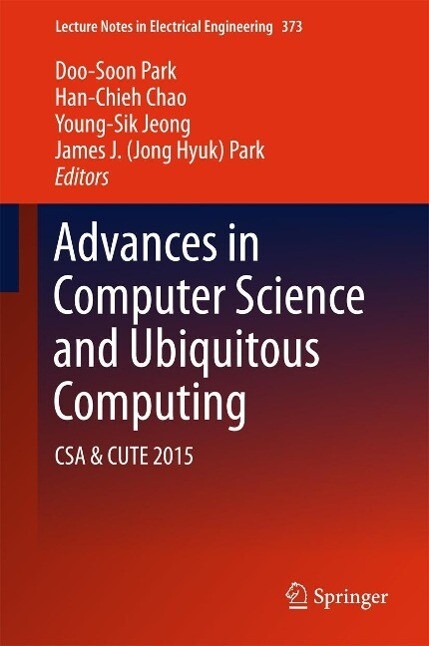 Advances in Computer Science and Ubiquitous Computing
CSA & CUTE.
Sofort lieferbar (Download)
eBook pdf
Dieses eBook können Sie auf allen Geräten lesen, die PDF-fähig sind. z.B. auf den tolino oder Sony Readern.
eBook pdf
€ 117,49

*
inkl. MwSt.
Machen Sie jemandem eine Freude und
verschenken Sie einen Download!
Ganz einfach Downloads verschenken - so funktioniert's:
1

Geben Sie die Adresse der Person ein, die Sie beschenken
möchten. Mit einer lieben Grußbotschaft verleihen Sie Ihrem
Geschenk eine persönliche Note.

2

Bezahlen Sie das Geschenk bequem per Kreditkarte,
Überweisung oder Lastschrift.

3

Der/die Geschenkempfänger/in bekommt von uns Ihre Nachricht
und eine Anleitung zum Downloaden Ihres Geschenks!
Dieser Artikel ist auch verfügbar als:
Produktdetails
Titel: Advances in Computer Science and Ubiquitous Computing

ISBN: 9811002819
EAN: 9789811002816

Format: PDF
CSA & CUTE.
Sprache: Englisch.
Dateigröße in MByte: 54.

Herausgegeben von Doo-Soon Park, Han-Chieh Chao, Young-Sik Jeong
Springer-Verlag GmbH
17. Dezember 2015 - pdf eBook - 918 Seiten
This book presents the combined proceedings of the 7th International Conference on
Computer Science and its Applications (CSA-15) and the International Conference on
Ubiquitous Information Technologies and Applications (CUTE 2015), both held in Cebu, Philippines, December 15 - 17, 2015.





The aim of these two meetings was to promote discussion and
interaction among academics, researchers and professionals in the field of
computer science covering topics including mobile computing, security and trust
management, multimedia systems and devices, networks and communications,
databases and data mining, and ubiquitous computing technologies such as ubiquitous communication and networking, ubiquitous software technology, ubiquitous systems and applications, security and privacy.





These proceedings reflect the state-of-the-art in the development of computational
methods, numerical simulations, error and
uncertainty analysis and novel applications of new processing techniques in
engineering, science, and other disciplines related to computer science.

CSATrack 1. Mobile and ubiquitous computing Track 2. Dependable, reliable and autonomic computing Track 3. Security and trust management Track 4. Multimedia systems and services Track 5. Networking and communications Track 6. Database and data mining Track 7. Game and software engineering Track 8. Grid and scalable computing Track 9. Embedded system and software Track 10.Artificial intelligence Track 11.Distributed and parallel algorithms Track 12.Web and internet computing Track 13.IT policy and business management

CUTETrack 1. Ubiquitous Communication and Networking:- Ubiquitous wired and wireless networks - Ad-hoc networking - Intelligent sensor network/RFID - Ubiquitous/pervasive platform and middleware - Automated, adapted and situated service - Open service architecture - Intelligent web service - Mobile and ubiquitous multicasting - Next-generation Internet & IPv6 - Mobile network (NGN/BcN) - Wireless communication technology - Optical networks - Home networks - Future InternetTrack 2. Ubiquitous Software Technology:- Context-aware acquisition and representation - Context-aware media processing - Context database/management - Context framework and middleware - Context analysis and utilization - Context/Location-aware application - Energy-aware system - Resource-aware computation - Self-aware computers and systemsTrack 3. Ubiquitous Systems and Applications:- Distributed ubiquitous middleware - Ubiquitous intelligent applications - Ubiquitous intelligent systems - Intelligence grid platform and service - U-Health care system - Smart appliances and wearable devices - Haptic interfaces and interactions - Design principles for multimodal systems - Auditory and haptic displays - Multimodal gaming and entertainment - Novel systems and interactions using other modalities (e.g. taste, smell) - Computer imaging and graphics - Ubiquitous learningTrack 4. Ubiquitous Security, Privacy and Trust:- Information security and cryptography - Security services/mechanisms/protocols in network/system levels - Access control in network/system levels - Identity, privacy, and trust issues in ubiquitous society - Risk estimation and management - Formal verification for security services & mechanisms/protocols - Performance analysis for security services & mechanisms/protocolsTrack 5. IT Convergence Services




Professor Doo-SoonPark received hisPhD in Computer Science from Korea University in 1988. Currently, he is aprofessor in the Department of Computer Software Engineering at SoonchunhyangUniversity, South Korea. He is President of KIPS(Korea Information ProcessingSociety) and Director of Central Library at Soonchunhyang University andDirector of Wellness Service Coaching Center at Soonchunhyang University. Hewas editor in chief of JIPS(Journal of Information Processing Systems) at KIPSfrom 2009 to 2012. He was Dean of the Engineering College at SoonchunhyangUniversity from 2002 to 2003, and was the Director of the u-Healthcare ResearchCenter at Soonchunhyang University from 2006 to 2007. He has served as anorganizing committee member of international conferences including CUTE 2014,CSA 2014, EMC-14, FutureTech 2014, and MUE 2014. His research interests includedata mining, big data processing and parallel processing. He is a member ofIEEE, ACM, KIPS, KMS, and KIISE. Contact him at parkds@sch.ac.kr.
ProfessorHamid R. Arabnia received a Ph.D.degree in Computer Science from the University of Kent (Canterbury, England) in1987. Arabnia is currently a Professor of Computer Science at University ofGeorgia (Georgia, USA), where he has been since October 1987. His researchinterests include Parallel and distributed processing techniques andalgorithms, supercomputing, Big Data Analytics and applications in medicalimaging, knowledge engineering, security and surveillance systems and othercomputational intensive problems. Most recently, he has been studying ways topromote legislation that would prevent cyber-stalking, cyber-harassment, andcyber-bullying. Dr. Arabnia is Editor-in-Chief of The Journal of Supercomputing(one of the oldest journals in Computer Science) published by Springer and hasbeen Associate Editor of IEEE Transactions on Information Technology in Biomedicine(2008-2011). He is also on the editorial and advisory boards of 32 otherjournals. He is the book series editor-in-chief of "Transactions ofComputational Science and Computational Intelligence" (Springer) andeditor-in-chief of the book series entitled "Emerging Trends in ComputerScience and Applied Computing" (Elsevier). Dr. Arabnia has received anumber of awards; most recently (2007), he received an "OutstandingAchievement Award in Recognition of His Leadership and Outstanding Research Contributionsto the Field of Supercomputing". This award was presented to him atHarvard University Medical School (signatories: Lawrence O. Hall, President ofIEEE/SMC; Zhi-Pei Liang, Vice President of IEEE/EMB; Jack. Y. Yang, GeneralChair of IEEE BIBE and Harvard University; Mary Qu Yang, Chair of SteeringCommittee, IEEE BIBE and NIH); Distinguished Leadership and Visionary Award.Presented by FTRA (Future Technology Research Association), presented bySteering Committee of CSA-13 International Conference; Distinguished ResearchAward for his Outstanding Contributions to Adaptable Communication Systems,presented by ACM SIGAPP IMCOM Co-Chairs, 2014. Dr. Arabnia is an electedFellow, International Society of Intelligent Biological Medicine (ISIBM); hehas served on the Advisory Board of IEEE Technical Committee on ScalableComputing (TCSC, 2006-2012).
ProfessorYoung-Sik Jeong is a professor inthe Department of Multimedia Engineering at Dongguk University in Korea. Hisresearch interests include multimedia cloud computing, information security ofcloud computing, mobile computing, IoT(Internet of Things), and wireless sensornetwork applications. He received his B.S. degree in Mathematics and his M.S.and Ph.D. degrees in Computer Science and Engineering from Korea University inSeoul, Korea in 1987, 1989, and 1993, respectively. He was a professor in theDepartment of Computer Engineering at Wonkwang University in Korea from 1993 to2012. He worked and researched to Michigan State University and Wayne StateUniversity as visiting professor in 1997 and 2004 respectively. Since 2002, hehas been serving as an IEC/TC 100 Korean Technical Committee member, as theIEC/TC 108 Chairman of Korean Technical Committee, and as an ISO/IEC JTC1 SC25Korean Technical Committee member. Also He is an EiC(Editor-in-Chief) ofJournal of Information Processing Systems, an associate editor of JoS(Journalof Supercomputing), IJCS(international Journal of Communication Systems) and aneditor of JIT(Journal of Internet Technology), finally an associate editor ofJournal of Human-centric Computing(HCIS) and so on. He is also is a member ofthe IEEE.
ProfessorJames J. (Jong Hyuk) Park received his Ph.D. degree in Graduate School of Information Security from KoreaUniversity, Korea. From December, 2002 to July, 2007, Dr. Park had been aresearch scientist of R&D Institute, Hanwha S&C Co., Ltd., Korea. FromSeptember, 2007 to August, 2009, He had been a professor at the Department ofComputer Science and Engineering, Kyungnam University, Korea. He is now aprofessor at the Department of Computer Science and Engineering, Seoul NationalUniversity of Science and Technology (SeoulTech), Korea. Dr. Park has publishedabout 100 research papers in international journals and conferences. He hasbeen serving as chairs, program committee, or organizing committee chair formany international conferences and workshops. He is a president of the FutureTechnology Research Association International (FTRA) and Korea InformationTechnology Convergence Society (KITCS). He is editor-in-chief of Human-centricComputing and Information Sciences(HCIS) by Springer, International Journal ofInformation Technology, Communications and Convergence (IJITCC) byInderScience, and Journal of Convergence (JoC) by FTRA Publishing. He isAssociate Editor / Editor of 14 international journals including 8 journalsindexed by SCI(E). In addition, he has been serving as a Guest Editor forinternational journals by some publishers: Springer, Elsevier, John Wiley,Oxford Univ. press, Hindawi, Emerald, Inderscience. His research interestsinclude security and digital forensics, Human-centric ubiquitous computing,context awareness, multimedia services, etc. He got the best paper awards fromISA-08 and ITCS-11 conferences and the outstanding leadership awards from IEEEHPCC-09, ICA3PP-10, IEE ISPA-11, and PDCAT-11. Dr. Park' s research interestsinclude Digital Forensics, Security, Ubiquitous and Pervasive Computing,Context Awareness, Multimedia Service, etc. He is a member of the IEEE, IEEEComputer Society, KIPS, KICS, KIISC, KMMS, KDFS and KIIT.


Dieses eBook wird im PDF-Format geliefert und ist mit einem Wasserzeichen versehen. Sie können dieses eBook auf vielen gängigen Endgeräten lesen.

Für welche Geräte?
Sie können das eBook auf allen Lesegeräten, in Apps und in Lesesoftware öffnen, die PDF unterstützen:

tolino Reader
Öffnen Sie das eBook nach der automatischen Synchronisation auf dem Reader oder übertragen Sie das eBook auf Ihr tolino Gerät mit einer kostenlosen Software wie beispielsweise Adobe Digital Editions.

Sony Reader und andere eBook Reader
Laden Sie das eBook am PC/Laptop aus dem eBook.de-Shop herunter und übertragen Sie es anschließend per USB-Kabel auf den eBook-Reader.

Tablets und Smartphones
Installieren Sie die tolino Lese-App für Android und iOS oder verwenden Sie eine andere Lese-App für PDF-eBooks.

PC und Mac
Lesen Sie das eBook direkt im Browser mit dem tolino webreader, der in Ihrem eBook.de-Konto verlinkt ist. Oder laden Sie die Datei herunter und öffnen Sie das eBook in einer kostenlosen Lesesoftware, beispielsweise Adobe Digital Editions.

Die eBook-Datei wird beim Herunterladen mit einem nicht löschbaren Wasserzeichen individuell markiert, sodass die Ermittlung und rechtliche Verfolgung des ursprünglichen Käufers im Fall einer missbräuchlichen Nutzung der eBook-Datei möglich ist.

Bitte beachten Sie: Dieses eBook ist nicht auf Kindle-Geräten lesbar.

Ihr erstes eBook?
Hier erhalten Sie alle Informationen rund um die digitalen Bücher für Neueinsteiger.
Kunden, die diesen Artikel gekauft haben, kauften auch
Kundenbewertungen zu "Advances in Computer Science and Ubiquitous Computing"
Diese Artikel könnten Sie auch interessieren
Zuletzt angesehene Artikel