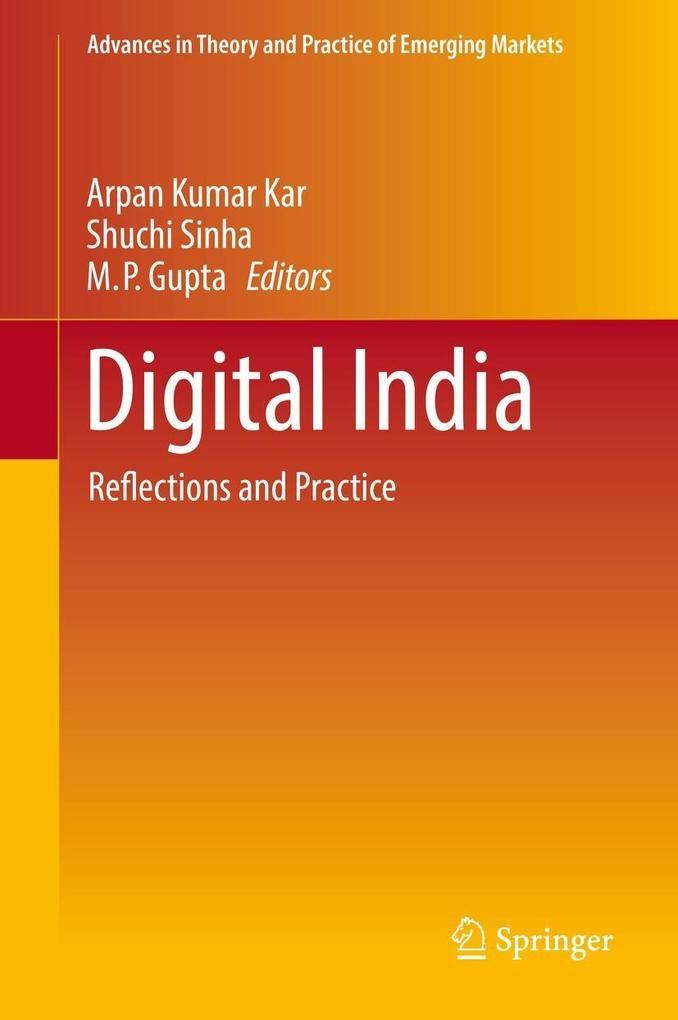 Digital India
Reflections and Practice.
Sofort lieferbar (Download)
eBook pdf
Dieses eBook können Sie auf allen Geräten lesen, die PDF-fähig sind. z.B. auf den tolino oder Sony Readern.
eBook pdf
€ 96,49

*
inkl. MwSt.
Machen Sie jemandem eine Freude und
verschenken Sie einen Download!
Ganz einfach Downloads verschenken - so funktioniert's:
1

Geben Sie die Adresse der Person ein, die Sie beschenken
möchten. Mit einer lieben Grußbotschaft verleihen Sie Ihrem
Geschenk eine persönliche Note.

2

Bezahlen Sie das Geschenk bequem per Kreditkarte,
Überweisung oder Lastschrift.

3

Der/die Geschenkempfänger/in bekommt von uns Ihre Nachricht
und eine Anleitung zum Downloaden Ihres Geschenks!
Dieser Artikel ist auch verfügbar als:
Produktdetails
Titel: Digital India

ISBN: 3319783785
EAN: 9783319783789

Format: PDF
Reflections and Practice.
Sprache: Englisch.
Dateigröße in MByte: 5.

Herausgegeben von Arpan Kumar Kar, Shuchi Sinha, M. P. Gupta
Springer-Verlag GmbH
14. Juni 2018 - pdf eBook - 284 Seiten
This book offers a multidisciplinary resource on digital government, while specifically focusing on its role within the emerging market of India. The Government of India (GoI) is concentrating on transforming India under the Digital India initiative. In order to do so, it has emphasized three core areas: (1) Computing infrastructure as a utility to every citizen; (2) Governance and services on demand; and (3) Digital empowerment of citizens. The chapters in this book address issues surrounding these areas, highlighting concepts such as knowledge societies, urban operations and logistics, issues in managing emergent Information Communication Technologies (ICTs), and also smart analytics for urbanization. The chapters contribute to the theory, practice and policy for a "Digital India." The book captures lessons, knowledge, experiences (about challenges, drivers, antecedents, etc.) and best practices emerging from implementation of various projects. While the book is dedicated to a "Digital India," this book can also be valuable resource for public administrators, government officials and researchers in other emerging markets and developing countries in Asia, Africa and Latin America where similar socio-political and economic conditions exist.
Chapter 1: The Driving Forces behind Customer Retention in a Digitized World: Evidence from India.- Chapter 2: Activity recognition and dementia care in smart home.- Chapter 3: Role of Organisations in realising Sustainable Development Goals through CSR.- Chapter 4: Digital Capitalism and Surveillance on Social Networking Sites: A Study of Digital Labour, Security and Privacy.- Chapter 5: Significance of Social Networking Media for Influencing the Investor Behaviour in Indian Stock Market.- Chapter 6: Bitcoin and Portfolio Diversification: Evidence from India.- Chapter 7: Analysing whether CEOs can act as influencers for Sustainable Development Goals.- Chapter 8: Assessing e-Government project outcome: A Service Provider's Perspective.- Chapter 9: Perceived information risk while providing sensitive information for consuming digital services.- Chapter 10: Transparency: Panacea for Corruption-free Governance & Reforms?.- Chapter 11: Value Chain Development for Government Sector: A SAP-LAP Approach.- Chapter 12: Current Trends in Industry 4.0 and Implications in Container Supply Chain Management.- Chapter 13: The effective design and implementations of policies in smart cities contexts: A conceptual framework on socio-digital-planning environment.- Chapter 14: Impact Assessment of Refresher Investor Awareness Sessions for Rural Citizens.- Chapter 15: Analysis of Stakeholders within IoT Ecosystem.

M. P. Gupta is Professor & Head at Management Department, Indian Institute of Technology Delhi (India); area Chair of Information Systems & also Coordinator-Center for Excellence in E-gov at IIT Delhi. Known for pioneering works in the area of e-governance, he has been spending significant amount of resources in developing cases, tools and frameworks to promote e-governance research in the country. These included 24 Doctoral thesis, 17 sponsored projects worth >5 crores, co-authored book 'Government Online', two other edited books 'Towards E-government' & 'Promise of E-governance' and 200+ research papers appeared in National and International Journals/Conference Proceedings]. He founded the International Conference on E-governance (ICEG) in 2003 which is running into its 12th year with 14 edited volumes (largest collection of literature on e-gov). He has been closely following Government of India (GoI) National Plan on E-gov which is now rechristened into an umbrella program of 'Digital India'. His studies have suitably fed into these programs in general and 'Cyber Security Policy of India' in particular. His recent interest lies into exploring some the issues of smart cities. With ready expertise of e-governance, it is logical to design studies addressing challenges of 'smart city governance'. In pursuits of the same, he is steering an European Union funded (Horzon-2020) project 'EU-India Cooperation Platform in Future Internet and Electronic Media', which deals with the setting up of cluster to cluster partnerships between India and EU into areas pertaining to the convergence and/or intersection of Future Internet and Digital MEDIA (FI-MEDIA). Some of the key areas of smart cities have been identified for cooperation and knowledge sharing. He has also developed a report on 'Smart Campus@IITD' setting the agenda for smart campus living at IIT Delhi. This was recently presented at Frankfurt Book Fair during 14-16 Oct 2015 at the NEM summit. He is also a member of core team steering 'Unnat Bharat Abhiyan (UBA)' where aim is to bring transformational change in rural development processes by leveraging knowledge institutions (IITs, NITs, IIMs etc.). He is responsible for developing resources on 'Smart Village' which forms an important agenda under UBA. Interesting collaboration ideas on FIWARE from European Union (EU) and smart farming in particular from the Waterford Institute of Technology (WIT), Ireland, have garnered significant interest in UBA, especially in relation to monitoring of animals health and the impacts to/ from their feeding practices using 'smart technologies'. He is involved in several policy making committees on ICT in the Center and State Governments in India; also on jury of prestigious awards committees viz. National Awards on e-gov, Data Security Council of India (DSCI), Computer Society of India (CSI) Egov Awards and Web Ratna Awards which is now renamed as 'Digital India Awards' since 2016'. A recipient of the prestigious Humanities & Social Sciences (HSS) fellowship of Shastri Indo Canadian Institute, Calgary (Canada) 1996 and was a Visiting Fellow at the University of Manitoba. Conferred Best Professor award in 2012 at Singapore World Education Congress and CMO Asia. Arpan Kumar Kar is currently employed as an Asst. Professor in Indian Institute of Technology, Delhi. Prior to joining IIT Delhi, he was Assistant Professor(v) in IIM Rohtak. He is also a visiting professor in some IIMs (L, A). He has published over 70 articles in Elsevier, Springer, Emerald, Taylor and Francis, IEEE, AIS, ACM, Inderscience, etc and presented his research in leading conferences like HICSS, IFIP, ICEGOV, etc. He is the recipient of multiple prestigious awards and recognitions for his research. He also has prior industry experience with IBM - India Research Laboratory and Cognizant Business Consulting, besides having completed a number of prestigious projects for reputed organizations (e.g. EU, GoI, etc). He has completed his integrated doctorate (FPM) from XLRI Jamshedpur (highest CQPI) and graduation in engineering from Jadavpur University (gold medalist). Shuchi Sinha is an Assistant Professor at the Indian Institute of Technology Delhi (IIT Delhi). A PhD from University of London, she has taught and researched in the areas of HRM, Leadership, Change Management, Identity regulation, Business Communication and other aspects of organization studies at various universities of repute like the University of London, University of Bath and University of Roehampton in the United Kingdom and IIT Delhi and IIM Rohtak in India. She has also worked as a post-doctoral research fellow with the National Health Service (NHS) South West Strategic Health Authority, UK and University of Bath, UK. Her research has been published in international journals of repute like the Journal of International Business Studies, Culture and Organization, Human Values in Management. She is an Associate Editor for the Global Journal of Flexible Systems Management (JFSM) published by Springer.She has successfully completed consulting projects, conducted industry programs and delivered sessions on Interpersonal Effectiveness, Leadership Development, Managing Change, Business Communication, Team Dynamics and designing new structures for Government and Private organizations like the Ministry of Women and Child Development, NTPC, CPRI, IIM Rohtak, National Institute of Technology Durgapur among others. Prior to her doctoral research, she has worked as a consultant and trainer in the areas of change management, leadership development and talent assessment across different industry verticals.

Dieses eBook wird im PDF-Format geliefert und ist mit einem Wasserzeichen versehen. Sie können dieses eBook auf vielen gängigen Endgeräten lesen.

Für welche Geräte?
Sie können das eBook auf allen Lesegeräten, in Apps und in Lesesoftware öffnen, die PDF unterstützen:

tolino Reader
Öffnen Sie das eBook nach der automatischen Synchronisation auf dem Reader oder übertragen Sie das eBook auf Ihr tolino Gerät mit einer kostenlosen Software wie beispielsweise Adobe Digital Editions.

Sony Reader und andere eBook Reader
Laden Sie das eBook am PC/Laptop aus dem eBook.de-Shop herunter und übertragen Sie es anschließend per USB-Kabel auf den eBook-Reader.

Tablets und Smartphones
Installieren Sie die tolino Lese-App für Android und iOS oder verwenden Sie eine andere Lese-App für PDF-eBooks.

PC und Mac
Lesen Sie das eBook direkt im Browser mit dem tolino webreader, der in Ihrem eBook.de-Konto verlinkt ist. Oder laden Sie die Datei herunter und öffnen Sie das eBook in einer kostenlosen Lesesoftware, beispielsweise Adobe Digital Editions.

Die eBook-Datei wird beim Herunterladen mit einem nicht löschbaren Wasserzeichen individuell markiert, sodass die Ermittlung und rechtliche Verfolgung des ursprünglichen Käufers im Fall einer missbräuchlichen Nutzung der eBook-Datei möglich ist.

Bitte beachten Sie: Dieses eBook ist nicht auf Kindle-Geräten lesbar.

Ihr erstes eBook?
Hier erhalten Sie alle Informationen rund um die digitalen Bücher für Neueinsteiger.
Kunden, die diesen Artikel gekauft haben, kauften auch
Kundenbewertungen zu "Digital India"
Diese Artikel könnten Sie auch interessieren
Zuletzt angesehene Artikel