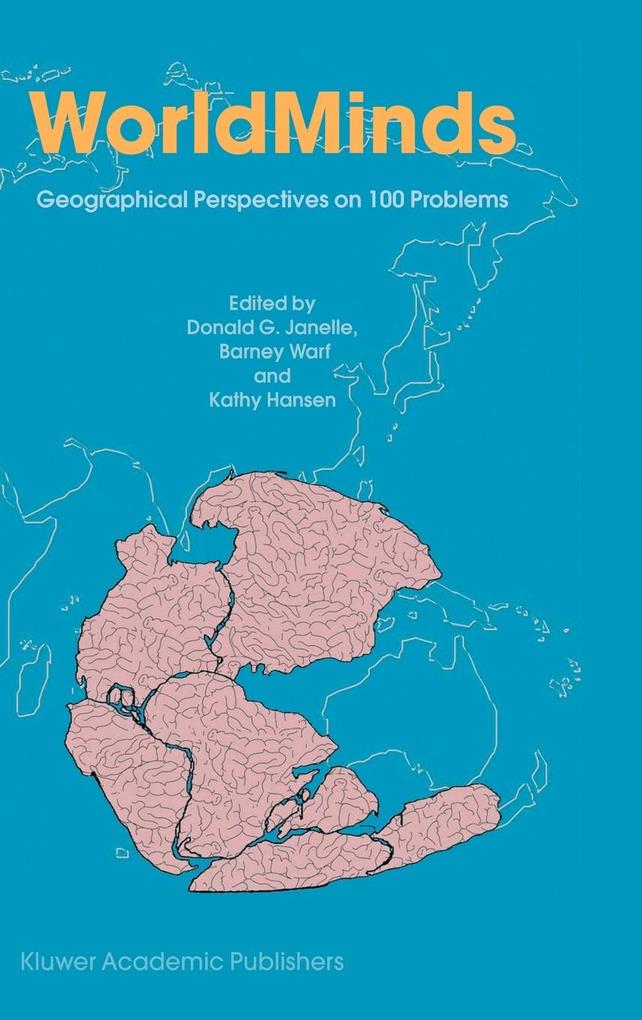 Worldminds: Geographical Perspectives on 100 Problems: Commemorating the 100th Anniversary of th…
Geographical Perspectives on 100 Problems. Commemorating th…
Lieferbar innerhalb von zwei Wochen
Buch (gebunden)
€ 214,49

*
inkl. MwSt.
Produktdetails
Titel: Worldminds: Geographical Perspectives on 100 Problems: Commemorating the 100th Anniversary of the Association of American Geographers 1904-2004

ISBN: 1402016123
EAN: 9781402016127

Geographical Perspectives on 100 Problems. Commemorating the 100th Anniversary of the Association of.
Auflage 2004.
Sprache: Englisch.

Herausgegeben von Donald G. Janelle, Barney Warf, Kathy Hansen
SPRINGER NATURE
1. März 2004 - gebunden - 638 Seiten
"WorldMinds provides broad exposure to a geography that is engaged with discovery, interpretation, and problem solving. Its 100 succinct chapters demonstrate the theories, methods, and data used by geographers, and exemplify the conceptual and topical richness of contemporary geography. The 150 contributing authors and co-authors address the challenges posed by issues such as globalization, regional and ethnic conflict, environmental hazards, terrorism, poverty, and sustainable development. This volume demonstrates the utility of geography as a conceptual discipline that contributes theoretically; as an applied practice that informs policy-making; and as a coherent set of methodologies to gather and analyze data about Earth and its occupants.
WorldMinds is the ideal general reader to supplement textbooks in the full range of academic geography courses. In addition to geography students and instructors, it is relevant to researchers, applied geographers and policy makers. "
I Mixing Geography with Politics.- 1. Environmental Problems and International Democracy.- 2. Geographies of Power in the Post-Cold War World-System.- 3. Rural Property Rights in a Peace Process: Lessons From Mozambique.- 4. Globalization and Protest: Seattle and Beyond.- 5. Allah's Mountains: Establishing a National Park in the Central Asian Pamir.- 6. Energy, Territory, and Conflict: Place-Based Research in the Caucasus.- 7. Hidden Killers: The Problem of Landmines and Unexploded Ordinance.- 8. Evaluating the Geographic Compactness of Representational Districts.- 9. Environmental Conflict, Collaborative Solutions, and the Politics of Geographic Scale.- 10. Putting Memory in its Place: The Politics of Commemoration in the American South.- 11. Banner Headlines: The Fight Over Confederate Flags in the American South.- II Addressing Human Needs: Health and Education.- 12. Halting the AIDS Pandemic.- 13. Detecting Spatial Clusters of Cancer Mortality in East Baton Rouge Parish, Louisiana.- 14. A Geographic Approach to Identifying Disease Clusters.- 15. Mortality Rates Across Time: Does Persistence Suggest "Healthy and Unhealthy Places" in the United States?.- 16. Learning Geography in the Absence of Sight.- 17. Haptic Soundscapes: Developing Novel Multi-sensory Tools to Promote Access to Geographic Information.- 18. The Finnish Kaamos: Escapes From Short Days and Cold Winters.- 19. Applied Geography in the Provision of Educational Services.- 20. Spatial Analysis and Modeling for the School District Planning Problem.- 21. A Model for Collaborative Research: Building a Community-University Institute for Social Research.- 22. Struggling Against Illiteracy in a Global City: The New York Experience.- 23. Reaching New Standards: Geography's Return to Relevance in American Education.- III Enhancing Life in Cities.- 24. Poverty and Geographical Access to Employment: Minority Women in America's Inner Cities.- 25. Ethnic Segregation: Measurement, Causes, and Consequences.- 26. Flat Break-Ups: The British Condominium Conversion Experience.- 27. The Geography of Environmental Injustice in the Bronx, New York City.- 28. Commuting, Congestion, and Urban Transport Sustainability.- 29. Charting Urban Travelers 24-7 for Disaster Evacuation and Homeland Security.- 30. The Walking Security Index and Pedestrians' Security in Urban Areas.- 31. Clean Streets - Clean Waterways: Street Sweeping, Storm Water Runoff, and Pollution Reduction.- 32. Reclaiming Brownfield Sites: From Toxic Legacies to Sustainable Communities.- 33. Land Cover Change in the Seattle Region: Linking Patterns of Growth to Planning Efforts Through Land Cover Change Assessments.- 34. How Smart is Smart Growth? The Case of Austin, Texas.- IV Integrating Local and Global Economies.- 35. Cultural Exploration and Understanding: A Framework for Global Business.- 36. Geography in Crisis: Perspectives on the Asian Economic Crisis of the 1990s.- 37. Modeling Space for Regional Regeneration: High-tech Districts in China.- 38. Why Offshore? Exploring the Geographies of Offshore Financial Centers.- 39. U.S. Call Centers: The Undiscovered Country.- 40. Gender and Globalization: Maquila Geographies.- 41. Promoting Development in the Canadian North.- 42. U.S. Land Use and Land Cover Change: 1973-2000.- 43. Periodic Markets Now and Then.- V Maintaining Healthy Ecosystems.- 44. The Biodiversity Crisis.- 45. Biodiversity Inventory: Kamiali Wildlife Management Area.- 46. Anthropogenic Soils and Sustainability in Amazonia.- 47. Tropical Deforestation.- 48. Deforestation of the Ecuadorian Amazon: Characterizing Patterns and Associated Drivers of Change.- 49. Forest Degradation and Fragmentation Within Celaque National Park, Honduras.- 50. Human Interactions With Ecosystem Processes: Causes of Aspen Decline in the Intermountain West.- 51. The Colorado River Delta of Mexico: Endangered Species Refuge.- 52. Geographical Perspectives for Tackling Problems in Wetlands.- 53. Marine Geography in Support of "Reefs at Risk".- 54. The Oculina Banks Experimental Research Reserve: A Habitat Assessment Using Multi-Media and Internet GIS.- VI Balancing Environment with Economy.- 55. Geographers and Sustainability: A Missing Connection?.- 56. The Great Plains and the Buffalo Commons.- 57. Reducing Energy Shortages and Pollution in China: The World Bank's Coal Transport Studies.- 58. Unintended Consequences: The War on Drugs and Land Use and Cover Change in the Ecuadorian Amazon.- 59. A Geographical Perspective on Coca/Cocaine Impacts in South America.- 60. Global Environments and Rural Communities: Enhancing Community Conservation Initiatives in East Africa.- 61. Water Management in the West: Controlling the Impact of Cumulative Pond Diversions.- 62. The Conservation Reserve Program: A Solution to the Problem of Agricultural Overproduction?.- 63. It's the Overgrazing Stupid! Destruction of the Global Rangelands.- 64. Forests and Management: A Case Study in Nepal Using Remote Sensing and GIS.- VII Unmasking Dangerous Environments.- 65. Excursions Into the Toxic Past.- 66. Non-Point Sources: Historical Sedimentation and 20th-Century Geography.- 67. Spatial Analysis of Hazardous Fuels and Ecological Decadence.- 68. Closed Municipal Landfills in Texas: Using GIS to Study Their Health, Safety, and Environmental Risks and Impacts.- 69. Understanding Pesticide Misuse in Developing Countries.- 70. The Biogeographic Response to Acid Rain.- 71. Thinking Outside the Circle: Using Geographical Knowledge to Focus Environmental Risk Assessment Investigations.- 72. Paleotempestology: Geographic Solutions to Hurricane Hazard Assessment and Risk Prediction.- 73. Societal Impacts of Blizzards in the Conterminous United States, 1959-2000.- 74. Coastal Hazards and Barrier Beach Development.- 75. Bridging Hazards Geography and Political Geography: A Borderland Vulnerability Framework.- VIII Activating Physical Geography.- 76. Ecological Response to Global Climatic Change.- 77. Global Change and Assessment of the Onset of Spring.- 78. Understanding Urban Climates.- 79. Developing Heat-Warning Systems for Cities Worldwide.- 80. Using Geomorphology to Assess and Enhance Beach Habitat for Horseshoe Crabs.- 81. Reconstructing Past Watershed and Ecosystem Development in the Coast Mountains, British Columbia, Canada.- 82. Water Resource Development on Small Carbonate Islands: Solutions Offered by the Hydrologic Landscape Concept.- 83. The Hydrodynamic Efficiency of Non-Traditional Levee Protection Methods in the Sacramento River Delta.- 84. Reclamation of Surface Coal-Mined Lands in Northwest Colorado.- IX Mobilizing Geographic Technologies.- 85. Community Mapping as a Solution to Digital Equity.- 86. Using Historical GIS to Resolve Political Boundary Disputes Along Rivers.- 87. Toward a Participatory Geographic Information Science.- 88. Empowering Indigenous Peoples and Promoting Collaborative Natural Resource Management Through Mobile Interactive GIS (MIGIS).- 89. Towards Structured Public Involvement: Improving Community Involvement in Transportation Decision Making.- 90. GIS Evaluation for Field Dissipation in the Northern Wheat Belt.- 91. Quantitative Spatial Analysis of Remotely Sensed Imagery.- 92. Geospatial Contributions to Watershed-Scale Surface Water Quality Modeling.- 93. The Modifiable Areal Unit Problem (MAUP).- X (Re)Assessing Culture and Identity.- 94. Placing Children at the Heart of Globalization.- 95. How Do Children Use Representations of Space?.- 96. Undocumented Immigrants in the 21st Century: Perceptions of Spatial Legitimacy.- 97. 'Nourishing the Soul': Geography and Matters of Meaning.- 98. The Profound Problem of Locating Humanity: The Significance and Implications of Feng-shui.- 99. Alexander von Humboldt and the Origins of Our Modern Geographical View of Earth.- 100. Natural and Cultural Landscapes: One Heritage or Two?.

Kunden, die diesen Artikel gekauft haben, kauften auch
Kundenbewertungen zu "

Worldminds: Geographical Perspectives on 100 Problems: Comm…

"
Diese Artikel könnten Sie auch interessieren
Zuletzt angesehene Artikel